Happy New Year!!! Sorry for the delay of the Top Ten series.
RPG is one of my favorite video game genre of all of time. The fact that I have to thinking before I can even execute a move is the main thing that I like about video games. Other genres of games are good for hacking and slashing or pummeling enemies with combos but some doesn't display a good amount of replay value like a
GOOD
RPG should have.
10. Blue Dragon (360)
Blue Dragon is the RPG based on the anime, Blue Dragon. There is no random encounter in this game because you can see your encounter and choose to avoid them. I also like the great amount of spells and roles you can play in this game, according to the shadows that are assigned to each player.
9. Dark Cloud (PS2)
An adventure RPG mix is always good for the business because it should great motivation and creativity. Dark Cloud is a great example of this. When I was 13, I played this game every chance I got.
8. Golden Sun (GBA)
Golden Sun is a beautiful RPG for the GameBoy Advance with great graphics and scene. This two part game is great for their spells that can be mixed and matched according to the spirits that you attached to the character.
7. Mega Man X: Command Mission (PS2)
The day that Mega Man became a RPG was a veru interesting day for me. I was late playing this game; I got it from my roommate in college. But I was kind of nervous about it at first, it did have some great abilities and an impressive storyline. This game I do go back and play every now and again.
6. Paper Mario 64 (N64)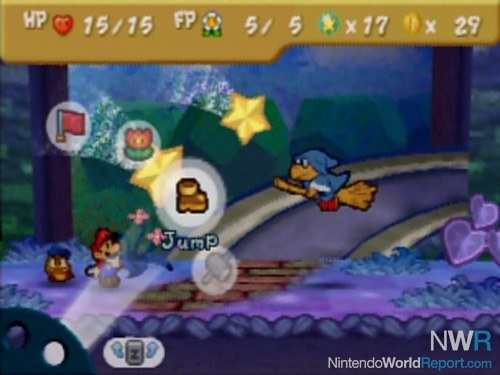 Paper Mario?! Yes, Paper Mario. This game was my RPG on the Nintendo 64 and my favorite on the Nintendo 64 for great reasons. Unique gameplay, mechanics like badges, partners and star summons and a great storyline are what makes Paper Mario a great RPG.
5. Xenosega (PS2)
All three episodes of Xenosega were great. But the sadness began when I had to wait until I had the money for the next episode. This game, in my opinion, is more tactical than strategy but I like it.
4. Super Mario RPG: Legend of the Seven Stars (NES)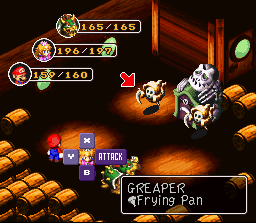 Ha ha, Mario in a RPG. That must have been a great day for us gamers. But, for me, I wasn't aware of this game until it came out for the Virtual Console. I like this game for it the unique choice of technique for each Mario character as well as the non-Mario related characters such as Mallow and Geno.
3. Pokemon Diamond&Pearl(DS)
No one can go wrong with Pokemon, this game involves tactial turn-based style of gameplay with very extraordinary creatures. I have played every pokemon game there is and I have to say that Espeon is my favorite pokemon in the series.
2. Final Fantasy XII (PS2)
Final Fantasy has been my favorite RPG for quite some time; but not this time. It has a compelling storyline with an unique level-up system and great characters to play and interact with. But, surprisingly, there is a game out there that I found better than Final Fantasy.
1. Lost Odyssey (360)
Lost Odyssey has been, so far, the best RPG I have played. Nothing compares to this game. It has style with immortals that can learn the skills of their mortal teammates but "Skill Link." It also makes sure that you don't over train with a twick in the level-up system.
This game, as well as other games, will be played over and over again for years to come. Thanks for reading!!
If you like to see a list on the series, please e-mail me with your ideas.